There are many things to do and see in the local area. Some of our favourite places are listed below.
Beyonderup Falls
Spectacular Winter waterfalls adjacent to chalets, just a 15 minute walk up the hill to view the scenic hills of Nannup from top of the waterfall. Please note that the falls are seasonal and dependant on recent rainfall.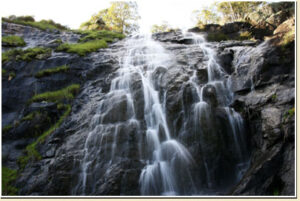 Tulips & Gardens
Nannup is known as the Garden Village and holds a Festival in August to showcase the magnificent tulips and daffodils. The streets are bedecked with stunning flower boxes and massed garden beds. The Festival of Country Gardens which encompass Nannup, Balingup, Bridgetown and Manjimup highlight beautiful gardens open to the public in May and November.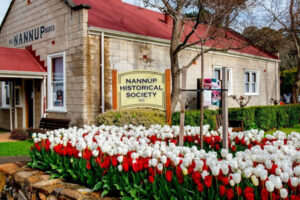 Wineries
You don't have to travel to Margaret River to experience some wonderful wines in the area. Blackwood Wines in Nannup also have a Bistro open for lunch.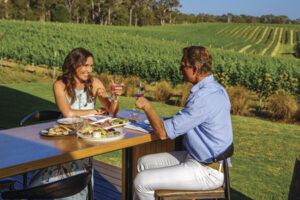 Restaurants
There are a several restaurants, cafes and pub in Nannup and Tavern, French Restaurant, Gluten Free café and gourmet fare in Balingup. A 45 minute drive will take you to the delicious Wine & Truffle Restaurant where you can learn about truffles and experience this culinary delight.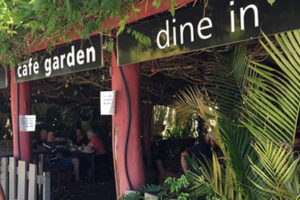 Cheese
Visit Cambray Sheep Cheese 10kms out of Nannup for a taste delight. Heritage Cheese on Balingup Road is also worth a visit.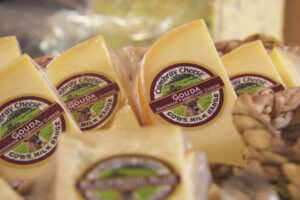 Galleries
Visit the several Galleries in Balingup showcasing some very talented artists and sculptures.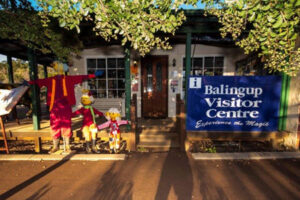 Golden Valley Tree Park
Established over 20 years ago on 60 acres. The International section has trees from all over the world and are truly spectacular in Autumn. Australian section has hilltop views over Balingup.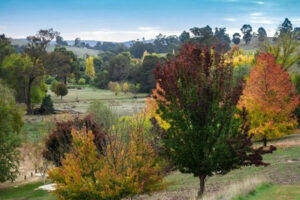 Balingup Lavender Farm
Wander through the lavender and rose display garden, handcrafted gifts and coffee shop. Open September – April
Arts & Crafts
Spend time browsing through craft shops in Nannup and The Old Cheese Factory Craft Centre in Balingup is WA's largest art and craft centre and antique showroom.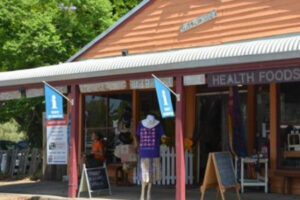 Tinderbox
Healing for humans from plants. Creates a unique and diverse range of herbal products.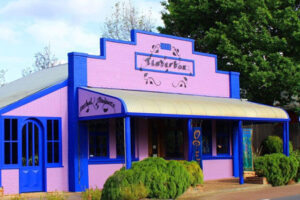 Barrabup Pool
Quite a unique place. Come in summer and swim in the freshwater pool or have a picnic or bbq in winter, all facilities available. Just a 15 minute drive from Nannup. Experience some of the designated walk trails around the area.
Mythic Mazes
Have fun among myths and monsters in the unique mix of hedge, sculpture gardens and games and quests. 20kms from Nannup on the Busselton road.
Scenic Drives
Beyonderup Falls is located on Tourist Route 251, known as the Blackwood Scenic Drive, 40kms from Nannup to Balingup and described as one of the prettiest drives in the South West. Do the triangle Nannup – Balingup – Bridgetown.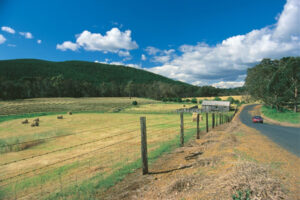 Walk Trails
There are several walk trails around Nannup or try the short walks of The Bibbulmin Track from Balingup.'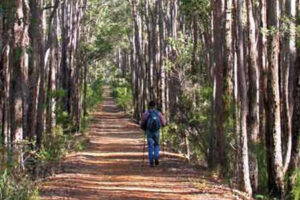 Marron
Fresh locally grown marron available to bring back to your chalet to cook.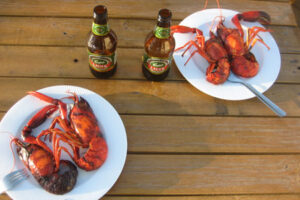 Western Tourist Radio
A West Australian Visitor Information Portal. Visit this site for links to great south west Australian tourist sites as well as a station guide for local tourist radio stations providing up to date information in major towns.
www.touristradio.com.au